Bob Miller, one of America's most controversial writers
"At least the attorneys got the name of their system right when they called it the Criminal Justice System, because it damn sure isn't the Victim Justice System." – Bob Miller
"Most people are like water. They travel the path of least resistance. Award mediocre and cheaters and you end up with George W. Bush as the president and Lance Armstrong as a world class hero." - Bob Miller
| | |
| --- | --- |
| | Kill Me If You Can, You SOB is unquestionably a controversial Vietnam War book. It's a genuinely strange analysis of the Vietnam War and the history and politics behind the Viet Nam War. This book was written in Vietnam, not afterwards from memory. Miller tells it like it was not how he remembered it being or wished it had been. ISBN: 9781587368462 |
"When you've survived flying helicopters in Vietnam, taken on the U.S. government, fought the mob in Las Vegas, been shot and stabbed as I have; farting in a crowded elevator falls short of being a disaster." - Bob Miller"
In 1958 Bob Miller joined the U.S. Air Force and served in the Strategic Air Command in a crash rescue unit (SAC). Ten years later he was in a U.S. Army uniform and served with the 192nd Assault Helicopter Company serving in Vietnam (Phan Thiet LZ Betty). Miller's aircraft was shot down twice and he was awarded the Distinguished Flying Cross and the Air Medal (29 clusters). Miller is from Florence, Alabama and has authored seven books.
| | |
| --- | --- |
| | RV, a book by Nan Kilar and Bobby Miller, contains some f, a book by Nan Kilar and Bobby Miller, contains some funny stuff, worthwhile stuff, and some totally worthless stuff. We're hoping it will give old timers a chuckle and Newbies some solutions. ISBN: 9781587368196 |
"Serving God somehow always leads back to serving, not God, but men. Kind of makes me wonder it was God who created the dick or the dick that created God?" - Bob Miller
| | | |
| --- | --- | --- |
| | | |
The social media crowd has tagged Bob, a curmudgeon, cynic, rebel, misanthrope and homegrown terrorist. The truth is he's a battlefield harden Vietnam veteran who is sick of political lies and wars of commerce. Bob's bestseller: Kill Me If You Can, You SOB, a pilot's diary.
"There are 400 million humans in the U.S. and U.K. and yet, two little worms, George W. Bush and Tony Blair got thousands of their youths killed, empty their treasuries, and rode off into the setting sun without losing an eye or a tooth. The Jew bankers and their puppets treat the citizens of these countries like peasants because, like their parents, they were bred to be pack mules and to be thankful for a full stomach and roof over their heads. The odds are these sociopaths have even gotten their pack mules to say those very words." - Bob Miller
"If you didn't care for Hunter S. Thompson or Henry C. Bukowski, you'd hate Bob Miller. Guaranteed! But if you're overweight, you'll benefit from Bob's Free Weight Loss Plan. I use Bob's Free Stock System." - Nancy Schatteman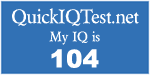 QuickIQTest.net - IQ Test
This is an interesting test. No email required.
Bob Miller is one of America's most controversial writers